Tantalum Sheet
Tantalum is often supplied in flat sheets. We suggest that you order to specific widths and lengths that limit the amount of waste in your application. Admat can cut to precise dimensions with very tight tolerances. Rather than ordering big sheets and cutting the material yourself, let Admat do the cutting for you and reduce your risk and scrap.
All tantalum sheet is not the same. Even material ordered to typical ASTM specifications could perform differently depending on how you use it. That's why it is important to let Admat know how the tantalum sheet will be used. Through the years, Admat has developed unique manufacturing processes for each application. By adjusting our production processes, we can control mechanical properties, grain size, texture and chemistry of the final products.There are many diverse applications for tantalum. Some utilize the corrosion resistance, some the density, and others the high melting point.In heat exchangers, tanks, and vessels that are used with corrosive chemicals and acids, our tantalum resists attacks and allows customer to keep their plants running without unnecessary maintenance and shut downs.
We recommend our Tantalum 2.5% Tungsten alloy for such applications.Our sheets are used in numerous applications as magnetic or radiation shielding. Such applications range from military satellites to cutting edge medical technologies. Depending on the shielding's environment the tantalum will likely be pure or either alloyed with 2.5 or 10 percent tungsten.
Some applications require the stamping of shapes or cups from tantalum sheets. Admat can engineer the material to perform ideally in such applications. By managing the rolling directions, reduction rates, and the number and temperature of intermediate annealing steps, we engineer the metal to fit the job.
Tantalum is commonly used in high temperature vacuum furnaces. In many instances, it not only is used as shielding or to support structures, but it is often the heating element itself. Depending on the size and shape of the material, Admat can provide various types of grain stabilized tantalum to improve the materials life in the furnaces.
If you need to buy tantalum sheet and you want it to work, then Admat is your best choice. We work with our customers to provide the right product and we stand behind it. Whether you need a small single sheet or thousands of pounds, Admat can supply it.
---

Tantalum Plate
Tantalum plates are used in a wide range of industries. In each of these applications, the tantalum has certain properties that are more critical than others. That is why it is essential to work with an experienced and reputable tantalum supplier who can understand your application. Our team has well over 50 years of experience working with tantalum in applications ranging from missile parts to microchips. Because of this experience, Admat has developed unique production processes in which we can control certain properties such as mechanical properties, grain size, texture, and even chemistry.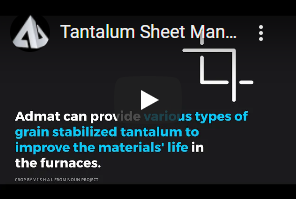 Our high purity sputtering plates are a perfect example in which we manage the grain size, texture, and chemistry. It's been shown that uniform grain size and certain blends of grain orientation (texture) help to produce a better performing sputtering target during manufacturing. And the purities from 99.95% to 99.999% improve the tantalum's performance in the final product.
Our Tantalum plate is sold for use in a wide variety of industries including:
Our tantalum 2.5% tungsten plates are designed to survive in corrosive environments, while our tantalum 10% tungsten alloy is designed for high-temperature corrosive environments. We also have furnace-grade tantalum that has small amounts of additives to slow grain growth and improve life in vacuum furnaces.
Semiconductor and electronics
Defense
Furnace parts
Chemical processing equipment
Medical
Thickness Maximum Width
.100″ and up 39″ (other sizes may be available with engineering review)
---

Sheet & Plate Specifications
Available Sizes for Tantalum Sheet & Plate
Thickness
.001″
.002" to .009"
.010″ to .090″
.100″ and up
Maximum Width
Common Specifications
ASTM B708 R05200
» Electron Beam Melted (Unalloyed)
ASTM B708 R05400
» Powder Metallurgy Grade (Unalloyed)
ASTM B708 R05252
» Tantalum 2.5% Tungsten Alloy
ASTM B708 R0255
» Tantalum 10% Tungsten Alloy
AMS 7849 Rev E
» Electron Beam Melted
Available Alloys:
Tantalum
Tantalum 2.5% Tungsten
Tantalum 7.5% Tungsten
Tantalum 10% Tungsten
Tantalum 40% Niobium
Furnace Grade Tantalum
Available Purities:
Commercial Grade ( ASTM )
3N 99.90% | 3N5 99.95%
4N 99.99% | 4N5 99.995%
5N 99.999%