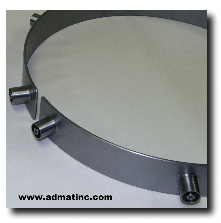 Admat Inc, a leading supplier of tantalum and niobium mill products, announced today the introduction of high purity 300mm tantalum coilsets to their semiconductor product line. These coilsets will be used in select physical vapor deposition (PVD) chambers and are available in a wide range of purities, the most common being 99.99% and 99.995% pure tantalum.
Admat will offer these parts to sputtering target fabricators who can perform final surface treatments and pair them with the required sputtering targets for end users.
The company's Sales Director, Eric von Spreckelsen stated, "I am very pleased to finally introduce this product to our thin films portfolio. These coilsets have undergone a lengthy development process with extensive testing, both internally and in the field. Our customers will be very pleased with both the performance and value of this product".
With each coilset, Admat will provide GDMS chemistry certifications and full CMM reports are available upon request. Select coilsets will be included in their inventory stocking program.