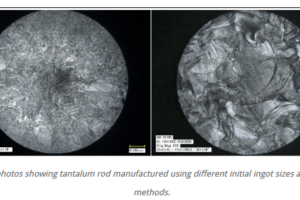 Tantalum is expensive. For most users of Tantalum, it is likely the most expensive material they buy. It's for that reason that so many companies source their material from smaller mills overseas to avoid paying the higher prices charged by the big American mills. But with so many companies selling tantalum, how can you tell a reputable company from a fly by night re-seller? Is there a way to ensure they are producing product using the best metallurgy practices? And how can you be sure these companies will stand behind their products when something goes awry? To be perfectly honest, you can't really be sure of these things without performing significant due diligence such as costly plant audits, independent third party testing, detailed engineering studies and utilizing years of experience. That's what Admat brings to the table.
Admat's management team has 50 years of tantalum experience, more than anyone else in the industry. What makes that knowledge so valuable is that it's a blend of domestic sales and manufacturing know-how combined with years of overseas production and engineering expertise. This gives us the unique ability to understand the culture of both our customers and our factories.
We understand your application and what material properties are important to you. Our engineers can adapt production techniques to produce product that is engineered specifically for your application. Whether it is high purity plates with fine grain for semiconductor production, grain stabilized rods for vacuum furnace parts, or isotropic strip for stamped parts, Admat has the experience and know how to help your business.
We have multiple contracted production plants throughout Asia. Each of these plants has undergone multiple on site audits and their range of products have undergone studies which include testing at independent labs. Each plant's production process is unique and therefore each has specific strengths and weakness. For example, some plants melt large diameter ingots that are rolled down directly to finished product, where others use small diameter ingots which require upset forging prior to rolling.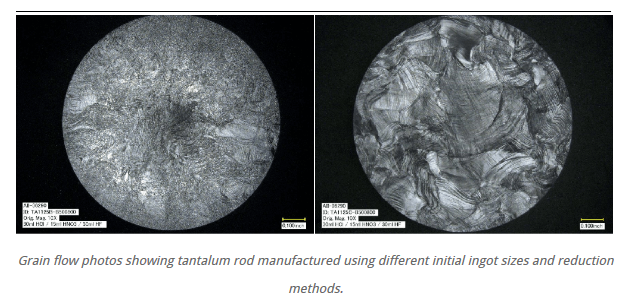 This photo shows grain flow in tantalum rods. Although on the outside, both rods would look identical to anyone, the metallurgy on the inside is completely different. Depending on your application, this could completely change how the material performs. Matching your unique material requirements with the right production method is an example of the value that Admat's experience provides our customers.
Since 1997, Admat's customers have come to expect a high level of quality and service. It is our goal to provide your company with the highest quality products available and to do so at a price that makes your business more competitive in the marketplace.
Call us today and let us show you how Admat can strengthen your raw materials position. Contact us for more information